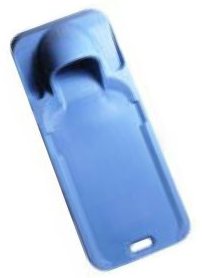 Colema Boards® are the recognized leader in home enema board kits. They have the industry's premier line used worldwide since 1975.
Colema Boards® are engineered for strength, ease, and convenience of use. It simplifies your self-administered enema, a cleansing of the bowel in the privacy of your own home.- much less expensive than any professional colonic.
The Colema Board® provides thorough and safe cleansing of the lower colon for relief of occasional constipation and bowel cleansing.
It is not a medical device and does not require a prescription or specialized training for use. This procedure is one of the safest and most inexpensive methods in keeping vital organs clean and free of debris, mucous, bacteria and poisons that are created over time.
The Original and the Folding Colema Boards are no longer manufactured. A new board combing the features of these two boards is in the works. Stay tuned..
Endorsed by health authors including Dr. Bernard Jensen, V. E. Irons, Sr., Patricia Bragg, Daniel Reid, Loree Taylor Jordan and others.
Colema Boards

Deluxe Colema Board
$289.00 (delivery included)
Price in U.S. dollars includes UPS ground shipping in the 48 contiguous United States. Contact Greg for a shipping quote to Alaska, Hawaii, or any other country, or for additional shipping options such as Next-Day Air, 2 or 3-Day Air. You must include your address and postal code if you wish a shipping fee quote.

Contact Greg at
colema@wayimmune.org
(click on email address)

1-813-784-1495
In addition to the benefits of colema fasting, when you purchase a board the CureDrive.org (WHUM) receives a donation.
The Deluxe Board is made of blue high impact plastic and comes with the tubing assembly, 2 disposal tips, a comfort pad, and an instructional DVD. Five gallon bucket not provided, but may be purchased at a hardware store. The board measures 44 inches long by 19 1/2 inches wide and 10 inches to the top of the hood. It weighs 19 lbs. and has been stress tested to at least 400 lbs. It is honestly far superior to other home colonics boards one finds on-line regardless of price.
The use of the Colema Board® Kit increases comfort and effectiveness by allowing you to lie comfortably in one position during administration of the enema solution and elimination of waste.
The Cure Drive staff and colleagues have been using equipment from Colema Boards of California for colema colon cleansing for 18 years.