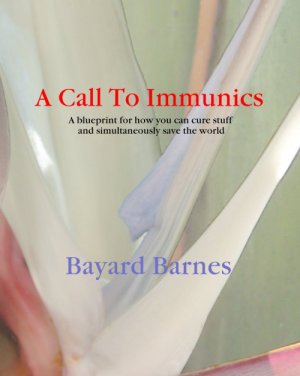 eBook or hardcover copy
A Call To Immunics
A blueprint for how you can cure stuff and simultaneously save the world
PDF Edition: 150 pages, 45 chapters in English, Spanish, and Italian. Downloadable PDF which may be saved to your computer and printed.
---------------------------------------------
To send a check or money order

This book is brief and to the point, but inclusive, on everything that it covers.
View Table Of Contents
"Immunics is voluntary control, conscious and intentional, of your immune system on all levels -- physical, mental, and emotional. People who exercise this kind of control throughout the day may become immune to certain diseases that others develop, or contract in the seemingly "normal" course of their lives."
-- Robert CASOLA, D.O.
(Immunics) is opening up wonderful doorways that aren't accessible any other way. So to become proficient in this really should be a goal of anybody who pulls up your website, has a look at it, and knows it's available.
I began reading your book last night. I began at the beginning and was testing along as I read. I can really do it now! It's fantastic. I think I had to give up my idea of how I thought I should be testing and allow my body to test the way it wanted.
-- Meredith Nisbet
I am trying to find the words to describe what happened to me while I read your book. The most profound being, able to see and communicate so clearly to my husband, what our relationship needs and what I want from it. And to see that message so easily received? Belissimo!

You beautifully express yourself and reveal yourself in a way that all people reading will relate to. That in itself is important. This book ties up a lot of loose ends for me. (I guess that is saying the same thing......I cured lots of stuff!)

It really will help those that don't have the benefit of being in close relationship with you. I can't help but face myself constantly working with you and other colleagues close up and personal.

This book is much, much more than you express it is. Wow! I see it as the missing link. Now all is in place.
-- Cathy di Pietro

If you live in a country where local laws make it impossible for you to donate, such as Africa or India, we will donate a password to you. Use the e-mail link below to write to us. Tell us about yourself, and your organization if there is one:
greg@wayimmune.org

If you live where it is possible for you to donate, please don't request a book without donating. If you can't afford the $19, take up a collection among people you know for the purpose of buying the book. You'll be helping them, as well as yourself, if you do this.

You have our permission to print out copies and give them away for free as long as you don't sell them. We're happy to have them distributed without people paying us for them, like The Hundredth Monkey was.

HONOR SYSTEM: You are free to print and give away copies, but not give Web access. This is our way of raising money. Anyway, we recommend that you start them with the Cure Drive -- it's the beginning point for learning everything.

So if you just want to e-mail something, e-mail an invitation to join the Cure Drive, and a link to the Cure Show page with some recommended Cure Shows.