Skill 1
Your seventh application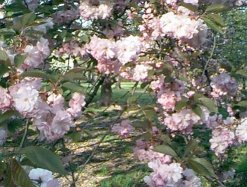 God protects you unconditionally - but she's not overprotective.
The safety web will protect you, but not too much.
Your audio talks for this application are:
Three disease-killing stories, part 3 - the virus story: How I learned to kill viruses
Running time: 51 min.


Interview with Bill Pelle, who killed hepatitis B
Running time: 13 min.

Commentaries on
Your Immunic
Safety Web
To evaluate
this application
Skill 1, Application 7: The Immunic Safety Web - lesson overview page

Test the following statements:
Steven Resenberg, the doctor who started using interlukens to cure cancer, once said that he wasted about five years of research by deciding to test the wrong strain of cancer. If only he had had immunics and could have tested which strain of cancer to test.

- Bayard

I was safe the whole way. How could I be so sure of it? Well, it was the way the information checked out. It just kept working and working - everything from ending hurt to ending herpes outbreaks.

And it was also that nothing was ever really asked of me. Immunics was always free, right there, available. There was never an admission price to do immunic actions. Anything I gave up, I gave up because it either out and out disappeared or just started to seem like excess baggage.

- Bayard
Do the above quotes seem disjointed or irrelevant to you?
Now just ask

this one question:

Is the safety web

something I feel?

something I test?

And then, if you wish, use the answer as a prompt to make up more questions for your own inquiry about this topic.

If you get answers that seem strange...
Also ask: Am I now operating from perceptions that are beyond the usual five senses?
Back to the welcome page

Back to the Hub