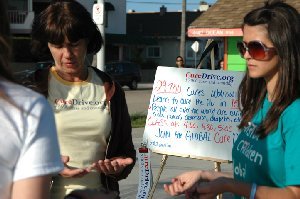 Skill 0

Opening caveats / Introduction
to confirming signals
Please read this -- it may save your life, or at least save you a lot of trouble.
Bear in mind that we have cured the things that we mention in our Cure College. Some of us have cured everything that has come at us.
For a beginner, hearing another person doing immunics is very important. As you become more advanced, text becomes a more viable way of learning. The lessons in the advanced areas are far more viable to convey with text than with audio/video, or even audio. Certain types of advanced information, however, does remain more viable when conveyed by audio, especially lessons that are appropriate in a lecture or story format. Hence our Cure Talks, Cure Shows, and audio/video tutorials..
The video tutorials are in certain ways even more effective than the audio Cure Shows, because of the combination of certain nuances, and most of all an attitude of curing, is conveyed by the interactive combination of visual and auditory expressions. Tough cases really need to watch video tutorials. There's no substitute for them.
Really, this needs to be on television all day, and everybody needs to know what it is and watch others do it. If this were the case, then it would be possible for most of us to start with the advanced tutorials. You'd come pre-prepared. If you can think of a way to get the networks and news media to pick this up, please communicate with us immediately. This basic skill you're going to study now is supposed to prepare you to do the advanced work.
Stay in touch with your highest intentions for humanity at all times when embarking upon any kind of cure. The attitude, "I've got to help myself first, then I can help others," is usually a bad one. If you intend to cure disease or end a dysfunction, it's not time to decide that it's every man for himself -- that will make you sicker.
You have our permission to reprint and hand this out, as long as you don't charge for it, and your printout shows all the information, including the copyrights, on each page.
If you're done ruminating on these points, let's get started.

Kit includes 3-month Colleagueship (access to the entire Cure College - audio lectures, CureShows, video lessons, text lessons), CD - Becoming an Immuner, both eBooks, 10 cure stickers

Kit with one year Colleagueship

_______________________________

Colleagueship only

Access to entire Cure College - audio lectures, CureShows, video lessons, text lessons.

A Call to Immunics
eBook Textbook
more info

PDFs in English, Italian and Spanish.


The Secret Meets The CureDrive
e-Book Textbook
more info

_______________________________

If you need financial aid for tuition only,
write to Greg Morkovin requesting the application questionnaire